Why produce again what already exists? It is by questioning on this issue that ME.LAND was born and built. Indeed, the world of footwear has existed for several thousand years. It was therefore important for us to offer you totally innovative products that respect the environment. This is how ecological sneakers appeared as obvious, with particularities specific to ME.LAND. Want to know more about eco-friendly sneakers? We guide you through this article.
Why choose eco-responsible shoes?
The environmental impact of the traditional shoe industry
The traditional shoe industry has a significant environmental impact. The production of conventional shoes often involves the use of non-sustainable materials such as rubber, solvents and synthetic leather, which require a large amount of energy and natural resources to manufacture. Additionally, the chemical processes used in the production of these materials can have adverse environmental consequences, such as water and air pollution. In addition, the traditional footwear industry also generates a considerable amount of waste, including from excess raw materials and unsold footwear.
The environmental benefits of eco-responsible footwear
On the other hand, eco-responsible shoes offer many environmental benefits. First, they use sustainable, recycled or organic raw materials. For example, ME.LAND opted for fabrics made from recycled plastic bottles or recycled textiles made from marine plastic waste.
How can eco-responsible footwear help promote a sustainable lifestyle?
These materials reduce dependence on virgin resources and minimize waste. Additionally, eco-responsible shoes are often made using production methods that reduce the carbon footprint. This can include practices such as using low-impact natural dyes, reducing greenhouse gas emissions during manufacturing, and employing energy-efficient production processes.
The manufacturing process of eco-responsible shoes
Selection of raw materials: use of recycled, organic, or sustainable materials
The process of making an eco-friendly sneaker includes several key steps. First, the selection of raw materials is essential. It is therefore important to favor the use of sustainable, organic or recycled materials. This can include materials such as leather or recycled fabrics. By choosing these alternatives, the environmental impact associated with the extraction and production of new materials is significantly reduced.
Production process: manufacturing methods that minimize the carbon footprint
The production process for eco-responsible footwear emphasizes methods that minimize the carbon footprint. This may involve the use of energy-efficient machinery, the optimization of raw material consumption and the reduction of waste generated during production. The location of the production and supply area is also important. Here are why our ecological and vegan sneakers are all produced locally in Portugal and our materials sourced within 20 km around the factory.
Packaging and delivery: how these aspects are also optimized to be eco-responsible
The packaging and delivery of an eco-friendly sneaker is also optimized to be environmentally friendly. This is possible thanks to the use of recyclable or biodegradable packaging materials, and this allows the quantity of plastic used to be reduced to a minimum. Additionally, it is possible to choose for more sustainable shipping options, such as using low-carbon carriers or consolidating shipments to reduce emissions associated with delivery.
How to recognize an eco-responsible shoe?
Labels and certifications to look for
Torecognize an eco-responsible shoe, it is essential to look for labels and certifications.For example, the Vegan label for shoes without ingredients of animalorigin which guarantees sustainable practices in the supply chain. The Seaqual Initiative is a remarkable initiative thatplays a vital role in protecting the oceans. Their innovative approach is tocollect plastic waste from the seas and oceans and then recycle it to produce awide range of high-quality nylon materials. Whether it's technical nylons,neoprene, linings, coatings, or fabrics, all these products are made fromreclaimed marine plastics. This means that every time you buy a Seaqual Initiative certified product, you are directlycontributing to the fight against plastic pollution and the preservation of ourprecious ocean ecosystems.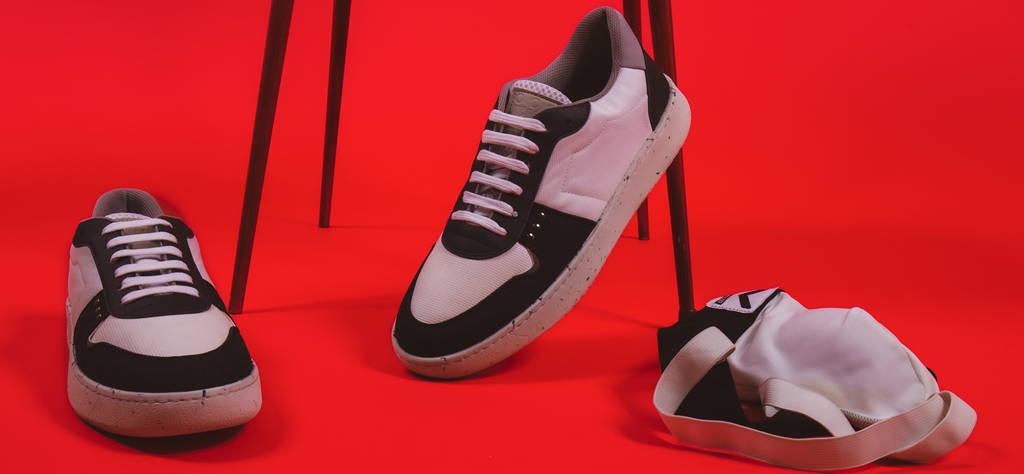 ME.LAND and the ecological impact of its products
ME.LAND is a young French company specializing in the creation of unisex (for men and ladies) shoes. Launched in 2018, this brand embodies a great adventure whose objective is to offer alternative, comfortable, unique, responsible, and low carbon footprint sneakers.
Frédéric Robert, the founder of ME.LAND, could have continued to collaborate with prestigious fashion houses such as Dior, Hermès or Kenzo. However, he chose to fulfill his dream by launching his own collection. Thus, ME.LAND shoes are specially designed for today's individuals.
The particularity of ME.LAND lies in its unique approach. The shoes are produced in limited series, offering an alternative and unique style. Each model is distinguished by different and exclusive color combinations.
The concept of ME.LAND is supported by a community of artists including singers, musicians, video makers, street artists, illustrators, photographers, actors, and of course, our valued customers. This approach reflects our values of inspiration, craftsmanship and fair and environmentally responsible commitment. ME.LAND aims to be a manifest brand, offering inspiring, ethical and original sneakers, perfect for everyday wear.
Eco-friendly sneakers are an alternative that respects the environment while having quality products on your feet. ME.LAND then undertakes to offer various stylish, unisex products, while always remaining in accordance with its vision, to produce only novelty in short series.