Cart (

0

)
Recently Added

0

Item
Total

€0,00
The item you just added is unavailable. Please select another product or variant.

Cart (

0

)
Recently Added
Total €0,00
The item you just added is unavailable. Please select another product or variant.
INSPIRED SNEAKERS
AS UNIQUE AS YOU ARE
OhOhO my choir new collaboration
Tattoo inks to hand paint each shoe
For its 5th anniversary
ME.LAND is proud to open its first store
69 Rue Condorcet
75009 Paris
France
Tuesday to Saturday
11h to 19h30
The EVAN vegan sneaker is designed to accompany ladies and men every day in all your moves and all your looks. Its low cut, with its sober and vintage combinations, creates an urban, stylish and refined look. It will be easy to wear.
For each vegan shoe you buy, we give 1€ back to PETA and SEAQUAL to help them in their work to save the planet.

THE ONLY ANIMAL ON THIS PICTURE IS ME
Aware of our environmental impact, our sneakers are designed in Montmartre and made in Portugal from recycled waste.
Why shall we re-produce what already exists?
WHAT'S YOUR SNEAKER STYLE ?
ME.LAND is a young French unisex footwear label. It is great adventure launched in 2018 with the ambition to offer a alternative sneaker for ladies and men that is comfortable, unique, responsible and low-carbon.
SInce we launched, we are committed.
Committed to craftsmanship
and committed to our plannet
ME.LAND works with many talented artists for the production of its visuals, images and videos. It is above all a community and the pleasure of working together.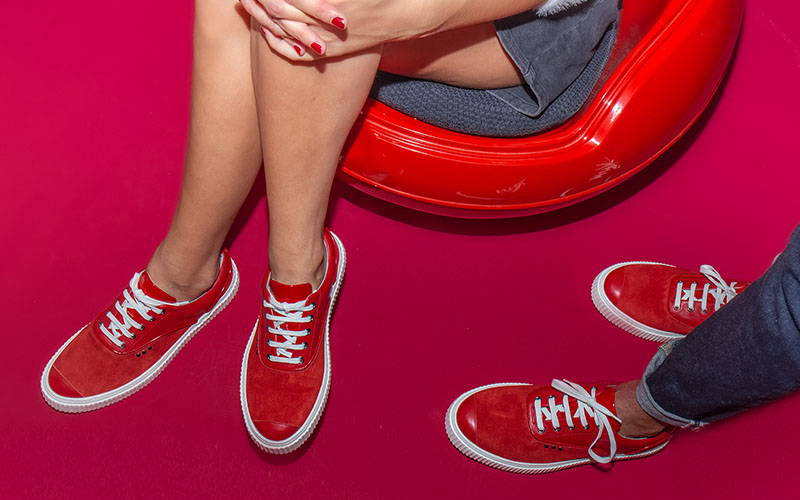 Stay tuned ! be the first to know about our new releases and much more...
Free shipping all over France and Europe
Designed in Paris, manufactured in Italy or Portugal, available worldwide
Visa, Master Card, Paypal ...
FOLLOW US ON INSTAGRAM
@MELAND_OFFICIEL