Photo credit: Marie Magnin
ME.LAND is much more than simple shoes. From the mix of inspirations, materials and colours emerges a daily behaviour. The philosophy of this adventure is quite simple: Stay on the tracks? Follow the rules? Why not. Provided that there is no way, one can erase his own character.
ME.LAND collaborates with artists from the French music scene as usual. Maud Lübeck has agreed to take the pose for ME.LAND. No way to erase or appropriate her personality, she posed with her own look and chose the pairs she wanted to wear. Her choice immediately fell on our VIVACE pink, beige and white or navy, cognac and blue, a model that is 100% vegan and recycled from plastics recycled from oceans waste and labelled by PETA and SEAQUAL INITIATIVE.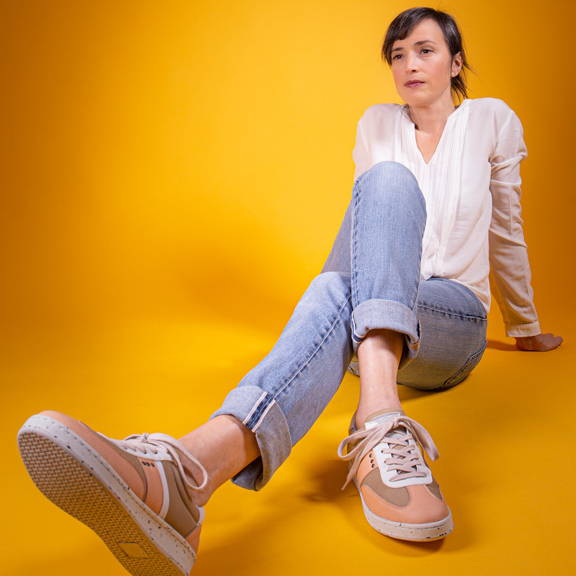 Singer, composer and songwriter Maud Lübeck dedicates her work to the exploration of romantic feelings. Her last two albums form a self-fictional diptych written in chronicle form. The first part, "Toi non plus", published in October 2016, explores the stages of breaking up. The second part, "Divine", published in January 2019, explores the romantic encounter and earned it a great success on critic side. We find Alain Chamfort there for a duet. A great success which brought her from the Francofolies de la Rochelle to the Salle Pleyel.
Maud released her new album in 2022 inviting Irène Jacob, Clothilde Hesme and Nicole Garcia: 1988, chronicles of a farewel! And is about to publish the graphic book linked to the same story. Bravo Maud Lübeck!

Free shipping all over France and Europe
Designed in Paris, manufactured in Italy or Portugal, available worldwide
Visa, Master Card, Paypal ...