ME.LAND is much more than simple shoes. From the mix of inspirations, materials and colours emerges a daily behaviour. The philosophy of this adventure is quite simple: Stay on the tracks? Follow the rules? Why not. Provided that there is no way, one can erase his own character.
ME.LAND invited artists from the French music scene. Valentin Vander has agreed to be the image of the ME.LAND sneaker collection. No question of erasing or appropriating his personality, he posed with his own look and chose the pairs he wanted. His choice immediately fell on our iconic MEAKER in turquoise and in grey.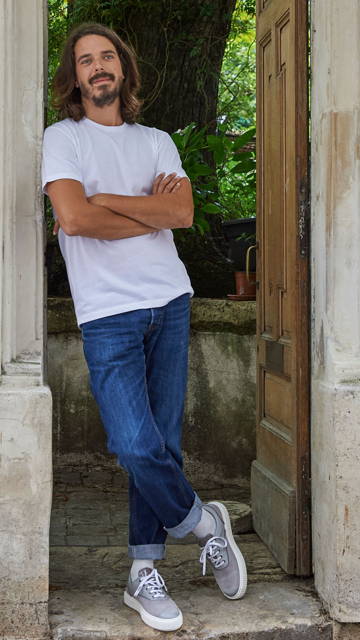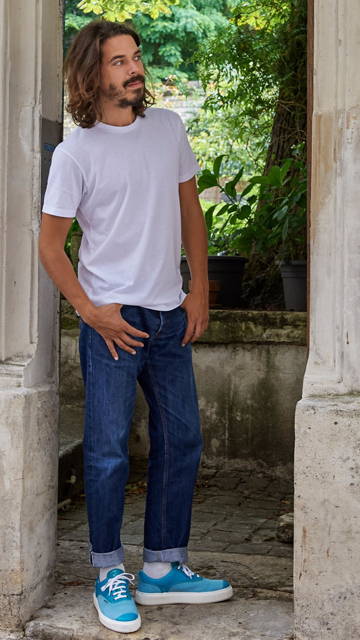 Valentin Vander's universe is a real field of experimentation between melancholy introspection and pop panache. The singer's palette is tinged with humor and espiegle lucidity. It digs the groove of a racy pop song of understated elegance. His latest album, Mon Etrangère, tells of the procrastination of love, subtly illuminated by the halo of the challenges of our time: fidelity, exclusivity, the randomness of desires. With each measure he cherishes the hope of finding an answer. Of course, it never points the tip of his nose. Valentin Vander is a timeless artist, who plays with the codes of traditional French song by dressing it in a thousand pop fabrics and electronic ornaments. In the end, this stranger quickly becomes familiar.

During the first lockdown of 2020, Valentin organizes the confined symphonies where he brought together 45 musicians and singers from their place of confinement to perform la Tendresse immortalized by Bourvil in 1963 and Blowin 'In the Wind written by Bob Dylan in 1963.
Free shipping all over France and Europe
Designed in Paris, manufactured in Italy or Portugal, available worldwide
Visa, Master Card, Paypal ...