ME.LAND is much more than simple shoes. From the mix of inspirations, materials and colours emerges a daily behaviour. The philosophy of this adventure is quite simple: Stay on the tracks? Follow the rules? Why not. Provided that there is no way, one can erase his own character.
ME.LAND collaborates with artists from the French music scene. Joseph d'Anvers has agreed to be the image of the collection. No question of erasing or appropriating his personality, he posed with his own look and chose the pairs he wanted. His choice immediately fell on our iconic MEAKER in red and the high top HEAKER in white and navy.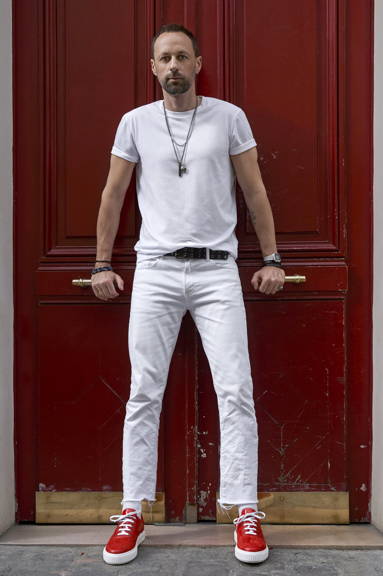 Photo credit : Gilles Crampes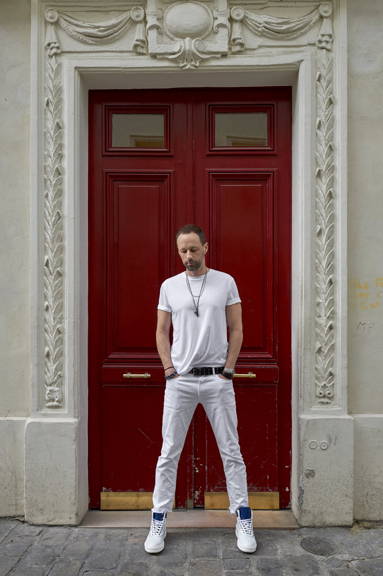 Boxer, novelist, songwriter, composer, singer, movie director, Joseph d'Anvers is a multidisciplinary artist. His sounds and his words generate images, sequences, so many universes that unfold beyond the space of his songs. He creates sound lights, sets up melodic climates, infuses his electro pulsations, delivers a thousand and one stories tinged with romanticism, darkness, innocence.

Doppelgänger, his new album has so many stories that have escaped from his intimate, inexhaustible fictions. Doppelgänger means, the double in Nordic mythology but also the themes declined in his new opus, like a constellation of musical fictions.
Joseph just published a new novel: Garçon Ordinaire, we wish him good luck. Well done, Joseph.
Joseph also let us his music for one of our collections. An enchantment. Thank you, Joseph!

Free shipping all over France and Europe
Designed in Paris, manufactured in Italy or Portugal, available worldwide
Visa, Master Card, Paypal ...